G'day mates!
This is among the latest product released in the Etude House 2014's spring collection.Its a multitasking lip product which can be a tint,blush or a lipstick.Lipstick in liquid form?Interesting,right?
Do you know NYX lip cream??The concept is the same but only now the Korean ventured into this kind of product.
I got mine in PK002.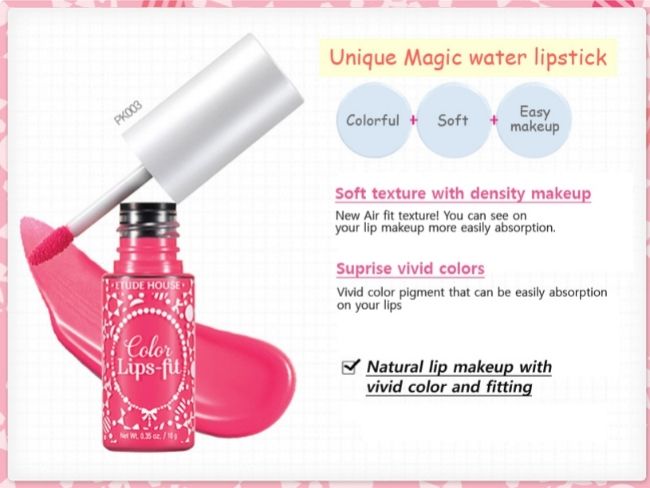 Keeping it traditional,pink colour was chosen as its theme colour.
The bottle is made of transparent plastic material and the cap has an attached doe applicator.
The applicator is slightly slanted,not sure whether it would make any difference even if its straight.
Im not a clean freak but i dislike the excess product on the edge of the bottle.
It was clean when i first decap the product but as i continue using it,it starts to accumulate on the surface.
Shade 02 is a bright neon pink that is slightly on the cool tone.
It is much more vibrant in reality compared to its appearance in this photo.
I was horrified when i first applied this tint/lipstick.
Combined with my already pale lips,it looks hideous when i did my usual gradient effect lips.
Then,i topped it up with a pink lip balm and it looks much more presentable :D
I went out with a friend for a lunch and wore this.
It transferred to the straw of my drink and when i finished eating,most of the product was already gone except for a subtle pink stain (which is still noticeable)
My Thoughts
This is a good product but not as good as Innisfree Lip Mousse and not even close to Nyx Lip Cream.The smell of course is candy-like with a hint of chewing gum yet less strong than Innisfree's.Its easy to blend and a gradient lips is totally possible,just make sure you swipe only a thin line along your inner lips.I was quite baffled with the colour option,i thought the colour for the coming spring season is radiant orchid.Maybe Etude want to make it universally compatible with all of the seasons.This is incredibly pigmented and vibrant yet the longevity is very poor especially if you're eating/drinking/talking so i would advice you to bring this whenever you're out and about.This product also require shaking before use which i have my own assumption on why such instruction was given but not gonna explain it here.Its science stuffs and it would probably bore you LOL.
W2Beauty sell this product for USD 13.37 which equivalent to 45 MYR.Its quite affordable and regular online shop sell this for about 36 MYR.
Rate
2.5/5