Hello unicorns!
Recently,i've been trying this BB cream from 3CE.You might already know that 3CE is a brand owned by stylenanda.Their cosmetics were overpriced (personal opinion k.) which is the sole reason why i have not tried this brand until now.
However,a seller from Carousell sold her pre-loved BB cream for a reasonable price and i couldn't resist the temptation to buy it :P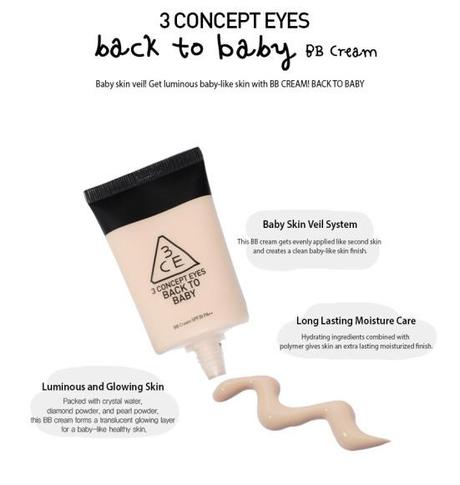 Surprisingly,it has a metal screw cap.Though it does not give any special to me but it was worth mentioning.
The BB cream is able to stand on its own and the tube is in a flat rectangular shape (30ml)
First,this BB cream has a limited shade (only one shade available) and its similar to the usual light beige shade.If you somehow got tanned,say goodbye to this BB cream LOL.When i first apply this,wow i was horrified because my skin look unusually grey/pale but after a minute or so it oxidize and i look more human :P Once i set my face with a loose powder,the greyish effect was almost gone.
The scent is similar to one of Holika holika's BB cream (cant remember which one) but if you ask me to describe it,it smells like baby powder yet less strong than Etude House Cotton Fit's.
It has a
dewy finish
and since i have an oily skin i would mattify my skin with the
Innisfree No-Sebum Mineral Powder
or Elite Loose Powder.Its
blends easily
,
almost runny but its texture is just nice
.
In short,not really my cup of tea.It would be nice if more shade is available.
I bought this for RM35 (USD 10.70) as it is a pre-loved item.The cheapest online price i've known so far is RM65.90 (USD 20.15).I've seen some shop is selling them for as high as RM90 (USD 27.51)! But i wont complaint since i heard the shipping offered stylenanda is quite expensive.
Rate - 3/5